You may be surprised to find that the most successful beauty and wellness accounts on social media share important commonalities in their content growth strategies. These ultra-popular medspas, beauty pros, and wellness providers all take a similar approach to maintaining a carefully curated brand identity on Instagram, Facebook, and other platforms. We will discuss some of the most popular social media growth hacks you can use to harness the power of social media as well.
Their social media presence centers around making their clients or products look and sound their very best. So whether you are highlighting a new super glow Vitamin C chemical peel or trying to promote your new supercharged vitamin mix, showcasing the best of your brand is key. You already have tons of material for social media content ideas just from the very nature of what you do. These tips will encourage you to be more competitive and earn even more revenue.
Here are some of our favorite tips you can use to grow your business.
1. Use Only Your Best Photos of Products and Treatments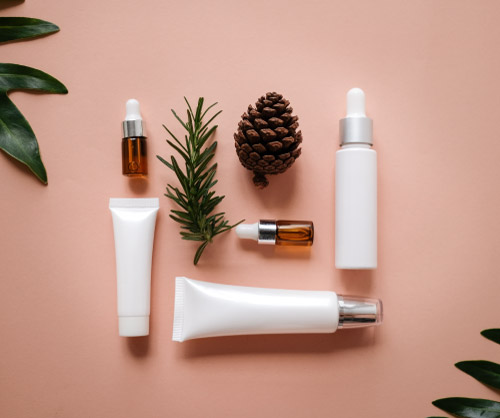 I hate to say it, but I'm going to. We have all seen cringe-worthy photos of a treatment that was not lit well or a product that was out so out of focus you couldn't read the label. If you are going to post a photo, make sure the quality is up to par.
Your brand is about aesthetics and making people feel good about themselves. Your photos should reflect the same quality and thought you put into your treatments and products you sell.
But how do you make sure your photo is ready for the public? You can enlist the help of a photo editor app like VSCO or Snapseed. Or, if you simply cannot get a post-worthy shot, look to a quality content creator like Brandabl that can provide you with a high-quality image that will stand in for your ideal pic. If you go this route, make sure to write something in the post caption that inspires your followers to get engaged and understand why you posted the picture you selected.
An example of this is promoting a Vitamin C serum. If you don't have a good photo of the product itself, find a visually appealing image of an assortment of oranges and lemons or a fun photo of someone with oranges. Then in your social media post, write something about the benefits of vitamin C and the product line you are offering. Don't forget to hashtag it to get the most bang for your buck.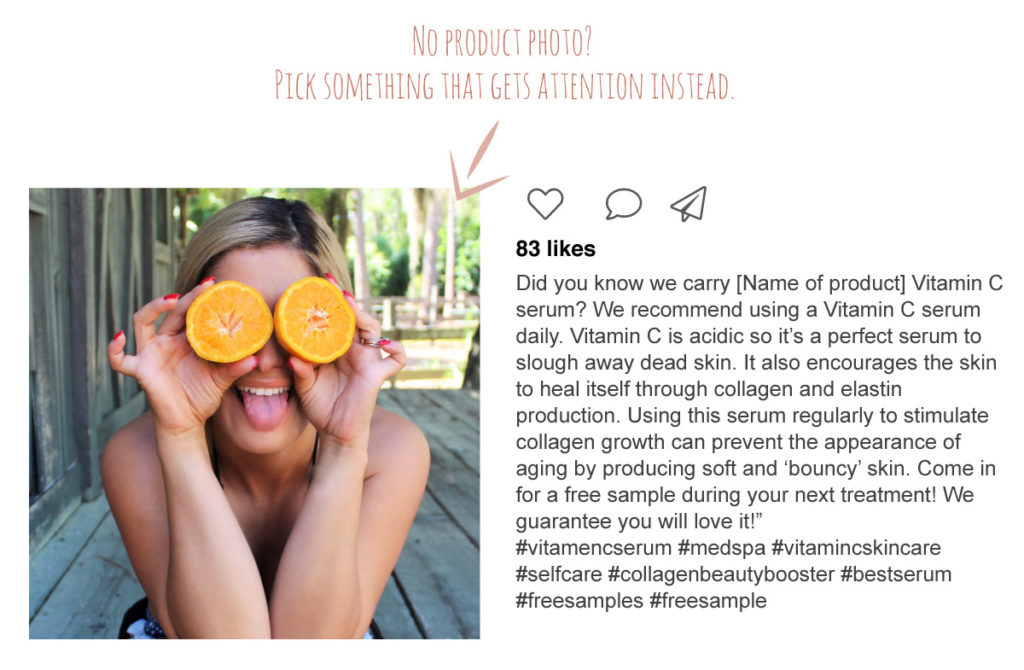 2. Grow an Engaged Audience of Followers
The trick here is the word 'engaged' when growing your social media following. You can run paid ads to gain followers but that won't necessarily mean they are engaged, active participants that will comment and 'like' your posts. Think about growing the right followers first, then work on your paid ad strategy. With this method, you will be able to select a custom audience that is built from the 'engagements' people have had with your social media profile. Gary Vaynerchuk recommends this growth strategy as it will actually grow a quality group community of followers versus just going for quantity.
3. Inspire Your Followers with Social Media Quotes
Finding the right posting balance is super important. Too much of any one kind of social media post can get overwhelming and lost in the shuffle. Let's look at the range of post styles that are available to the medspa, Beauty, and wellness industry. There are inspirational quotes, informational, promotional, and engagement. We will go into all of those individually in-depth as they are all equally important.
Too often we see social media posts fall into a pattern of before and after pics or too many fitness tips, or maybe just posting product photos every day. This kind of social media content can become white noise. Focus on inspiring and encouraging people to be the best versions of themselves possible. One way to do this is to sprinkle in inspiring social media posts that relate to your expertise. Make sure to brand the images similarly to your brand colors.
Find the right inspirational quote and place it over your brand color or a photo that relates to the quote. Here is an example of a complete inspirational social media post: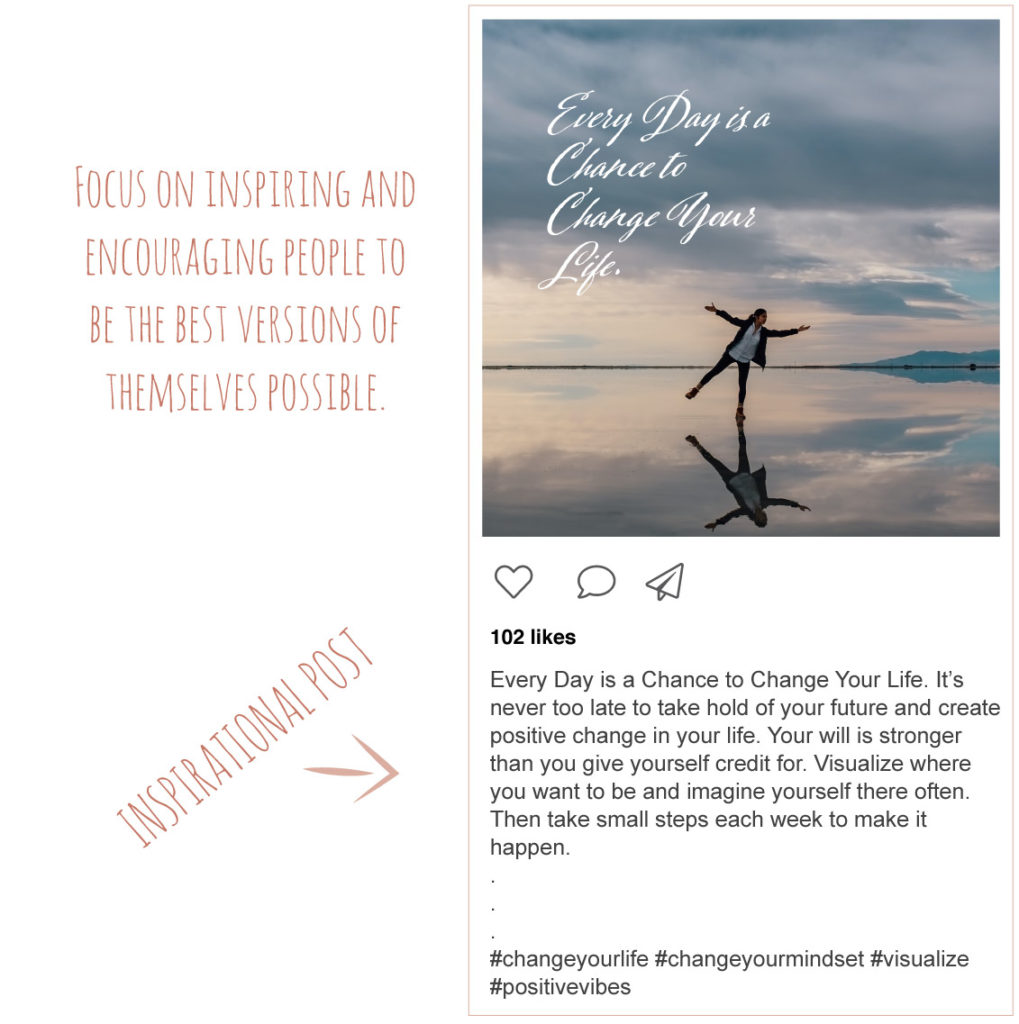 Each of these strategies, when done in tandem, can equate to huge growth for your social media profile and your brand. Keep trying to find the best methods and time investment that works for your business. It's so much fun to see your follower count growing and watching your DMs come in. If you have some great tips to share with other business owners and entrepreneurs, send them to us! We love collaborating to inspire growth, health, and happiness.